What is Solar iBoost+?
The Solar iBoost+ directs surplus energy from your PV array to your immersion heater. Marlec's innovative power diversion system has allowed over 100,000 users to enjoy hot water for free.
Automatically consume excess energy and make the most of those sunny days. Likely, you're not maxing out the power input from your PV array all year round. So, rather than waste energy, put it to use and provide your home with hot water completely free of charge.
Start by:
Further saving on your utility bills
Maximising the power harvested by your solar panels
Reducing the use of your boiler
You can also power your immersion heater using energy from the national grid. It's a valuable program for topping up or if your water cylinder is electrically powered.
Solar iBoost+ Products
The Solar iBoost+ is the UK's best selling PV immersion controller and preferred by most solar installers; it saves you money by cutting the cost of water heating and reduces the use of your home's boiler.
iBoost+ Buddy
iBoost+ Buddy is the wireless home energy monitor and remote control for your Solar iBoost+, allowing you to monitor home energy usage remotely.
Solar iBoost+
Marlec's innovative Solar iBoost+ enables you to automatically consume excess energy generated by your solar panels.
Heating Controls
Here are the two types of heating controls:
Boost
Offers an instant increase of power sourced from the grid in timed increments. Press the button and add 15 minutes to 2 hours of power. The Boost function will stop automatically when your immersion heater's temperature is reached.
Timed Functions
Here, you can program the system on a 5-day / 2-day timer basis with two times per day available.
As an added feature, you can switch between seasons within the settings to make the iBoost even more efficient.
How it Works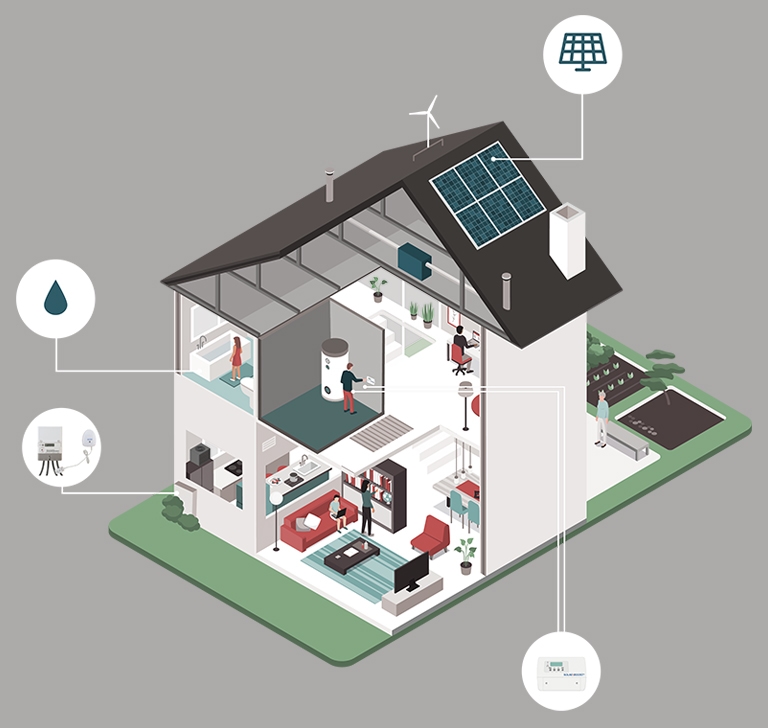 Your PV array harvests energy which is then converted into electricity for use in the home. Excess energy is typically exported to the national grid.
Marlec's unique energy clamp detects surplus energy and sends a signal over to the iBoost+.
The Solar iBoost+ is installed directly beside the immersion heater or hot water tank. When activated by the clamp, it intelligently controls and monitors energy flow into your heater.
In summer, surplus energy could meet all your hot water demands, in the winter, you may use a combination of solar power and energy from the national grid.
Why Solar iBoost+?
It's the number one PV immersion controller on the UK market.
Over 100,000 buyers prove it's power.
Homeowners save money all year round.
Easy to install and update within 30 minutes.
Over 300 Solar iBoost UK installers agree.
Save Money with the Solar iBoost+
If you have invested in Solar PV for your home then you will already be aware that there are periods of "export," when you can't consume all the energy being generated by the array. This energy normally flows back to the grid seamlessly so you may not even be aware of it.
If your home has hot water storage with an immersion heater then Solar iBoost+ can be installed and start saving you more money on heating bills in less than 1 hour!
Solar iBoost's built in display means that you can watch your savings grow, simply press the display button to see Saved Today, Saved Yesterday, Saved 7 Days, Saved 28 Days and Total Saved readings.
Frequently Asked Questions
If left without specific programming, the iBoost+ requires a minimum of 100W before energy is diverted to the immersion heater. If you have home battery storage, you can decide how you wish to programme self-consumption depending on the cut-in threshold of your battery.
The product is designed to be used with a maximum of 2 immersion heaters rated up to 3kW. Immersions need thermostats to operate with the Solar iBoost+, but no electronic controls. A qualified electrician must carry out all installations to avoid damage.
Using the iBoost+ built-in display, you can see exactly how much energy you have saved daily, monthly, and beyond since you first had it installed. View your information from anywhere in the house using the iBoost Buddy accessory.
The Solar iBoost+ has both a Boost and Programme function. Receive instant energy from the grid as each time you boost adds 15 minutes of operation. This function stops once the thermostat reaches your desired temperature or the selected time is up. Alternatively, the programmable timer can be set to use grid power only.